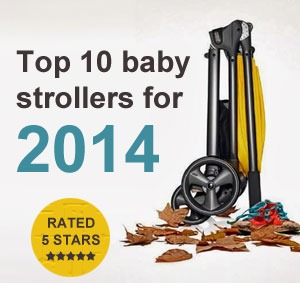 If you are feeling overwhelmed by the process of selecting a stroller, you are not along. Many parents feel lost because there are a lot of great models on the market. Every year there are many new releases that raise the bar for a modern stroller and the 2014 is not an exception.
I've already written an article on some of the cool new strollers that will be coming out later this year, but I also wanted to put together a list of top strollers that you can get RIGHT NOW. Not all of them are brand new, some of them have been released a while ago, but still hold their spot. I will be updating this list as the year goes by and new strollers come out. Of course they have to meet my high standards first before making it to my special top 10.
All of the strollers below are high quality and very practical. For me it's important for the stroller to have large canopy, deep recline, adjustable handle bars, adjustable leg rest, large basket, additional storage, travel system capability, price, and most importantly light weight. [Read More...]
Enter September Stroller Giveaway!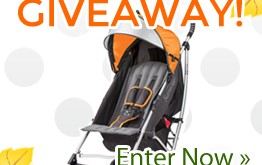 I am proud to announce that MomsStrollerReviews.com is starting a monthly stroller giveaway! That's right, every month you have a chance to win a stroller by entering our giveaway. This month we are giving away Summer Infant 3D Lite Convenience Stroller. This is a fantastic umbrella stroller that is one of the most popular lightweight […]
Stroller News

September 30, 2014 Leave a Comment
Stroller Reviews

The Chicco Liteway is one of the most popular umbrella strollers on today's market.  It has been rated the best umbrella stroller by many website because of the combination of value and features. Many parents already have heavier bulkier strollers and want to buy something lighter, more compact, and inexpensive for short trips, running errands, […]
Summer Infant 3D Lite Convenience is currently one of THE MOST popular umbrella strollers on the market. Why? Because it has high weight limit, deep recline, very lightweight, and budget friendly. And that's exactly what most of the parents want in an umbrella stroller. Nobody want's to spend hundreds of dollars on a second or […]

I love BOB strollers! They are sporty, stylish and high quality. This time BOB has release a new stroller called Revolution Flex. This new model is an upgrade to the beloved Revolution SE. The only difference between the two is the adjustable handle bar that people have been asking for for a LONG time. That's […]

Britax B-Agile 4 is the same as B-Agile only with four wheels. As soon as Britax has released it, I got a lot of emails from parents asking if four wheels are better than three. I think that four wheels are a little more stable when you going over terrain, but three wheels are easier to […]

After seeing the success of UppaBaby Vista stroller that has a reversible seat and a matching bassinet, Peg Perego decided to release the  Book Pop-up model. This is a luxury stroller that has reversible seat and comes with a matching bassinet. It's designed for everyday life like running errands, going the to mall and to […]

Joovy TooFold is a luxury versatile stroller with a creative frame design and some unique features. It has unusually shaped seat that might look small, but in fact is very room and comfortable. The main features of TooFold is it's BUILT-IN stand-in board that can hold a second older child. It can be quickly fold […]

Inglesina Trilogy is a luxury stroller with a reversible seat and easy one-hand umbrella like fold. It is designed for busy parents who live in an urban environment. Take it shopping, public transit or for a quick stroll around town while looking stylish and chic. The sealed bearing wheels are not all-terrain, but will handle some […]

The Safety 1st Lift LX Travel System is a full-featured stroller that comes with an extra-lightweight onBoard 35 infant car seat. You will really like how affordable and practical this travel system is. The matching car seat has excellent crash protection and side impact protection, so your child will be safe if you get into an accident. The transportation from […]

Britax have just added a new luxury customizable stroller to their collection called Affinity. The stroller comes with three different frames (black, white, or silver). The seat base is gray, but you can choose the color of your seat liner, canopy, basket liner and strap paddings from six beautiful colors that are part of so […]

Eddie Bauer Endurance is a budget-friendly jogging stroller that is designed for on-the-go parents who want to get a basic jogger for a reasonable price. These days not many people have $500 for a fancy jogging stroller full of luxury features. The Edurance model is not only affordable, but also has a lot of great […]

The Baby Jogger Vue is the FIRST  umbrella stroller with a reversible seat. The unique features of the seat it that in order to reverse it you don't need to take it out. All you need to do is to push the back of the seat forward. That's it! The innovative design also includes a […]

The Valco Baby Zee is a lightweight stroller that is full of great features, but has a very compact fold. I think that Zee model has been flying under a radar and I am very surprised it's not as popular as many other lightweight strollers. It's designed for every-day use and is very versatile. You […]

Jané Trider Extreme is a luxury all-terrain stroller that is great for long walks in the park or even light jogging. The hard rubber wheels and all-wheel suspension system with adjustable shock absorbers will provide your child with a smooth ride not matter how rough the terrain gets. The reversible seat sits higher on the frame […]

Jané Rider is a new luxury stroller from a Spanish company 'Jané'. It's designed for everyday use like going to a shopping mall, grocery store, or walking in the park. It rolls on four hard rubber wheels with 6″ wheels in the front and 10″ wheels the back. The Rider model performs best on flat […]